The Autobiography of Mrs. Tom Thumb
Mercy Lavinia "Vinnie'' Warren Bump is only 32 inches tall, but she lives an enormous life, thanks to her feisty and determined personality.  Her true story brilliantly unfolds with author Melanie Benjamin's extensive research and compelling writing in "The Autobiography of Mrs. Tom Thumb''.
Born in 1841, Vinnie decides she isn't content to live a sedentary life on her family's Massachusetts farm.  When she has the opportunity to join a traveling riverboat show, she leaves behind her protective family, and learns the painful lesson that she is expected to be part of the freak exhibit. She proves she is more than an oddity, and strives to present herself as a refined little lady with a lovely singing voice.
When the Civil War breaks out and the riverboat is overtaken by southern confederates, Vinnie flees to her family home. She soon grows restless, and finds she misses the stage life. She eventually writes to P.T. Barnum, whose American Museum in New York City is a sensation.
Barnum takes Vinnie under his wing, and introduces her to another little person, Charles Stratton, whose stage name is General Tom Thumb. The pair eventually marries and become a worldwide sensation, thanks to Barnum's showmanship. But their notoriety ends up causing great heartache, when her even smaller sister, Minnie, is exposed to the public spotlight.
The author incorporates excerpts from newspaper articles between each chapter, which provides an interesting backdrop to Vinnie's experiences and sheds light on America's Gilded Age of rapid expansion after the Civil War. Fans of historical fiction will enjoy this tiny but mighty heroine.
--Jo Hansen, This email address is being protected from spambots. You need JavaScript enabled to view it.
Add a comment
Nate's Podcast Picks
What is a podcast? A podcast is an episodic program delivered via the Internet. Podcast episodes can be audio files, video files, documents, or any combination of the three. The publisher or broadcaster podcasts the program by posting the episodes to the web. The consumer subscribes to the podcast using a client application, such as iTunes, which regularly downloads new episodes. Click here for more information.

If it weren't for my weekly podcasts I'd be drowning in an endless sea of new music, books, and movies. These days it seems impossible to keep up, there's just too much good stuff out there. Of course, word of mouth is still my favorite mode of finding new things, but I also find that a good podcast can provide the perfect access point for me to finally get into a music group or actually go see that new film opening up this weekend. I can almost guarantee I never would have listened to Van Morrison's "Astral Weeks" if it hadn't been for Jim & Greg's album dissection on Sound Opinions. I never would have seen the latest Woody Allen film "Midnight in Paris" if it wasn't for Matty Robinson's rave review on Filmspotting.

Beyond film and music, a good podcast can take a half hour or less to introduce you to fascinating topics you never thought you'd take an interest in. Through Terry Gross's recent interview with Adam Hochschild, author of "To End All Wars", I learned all about life in the trenches during World War I. Through the Stuff You Should Know podcast I recently learned how traffic works, something that I've always been curious about while sitting in it, but never wanted to study in depth. My podcasts keep me in the loop and spark my curiosity. I thought I'd share a few of my favorites.
The following is a list of podcasts I subscribe to and enjoy on a regular basis. If they sound interesting, you can subscribe to them through the iTunes store. Bonus- they are all free!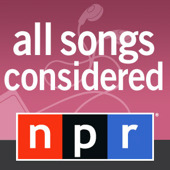 1. All Songs Considered- Host Bob Boilen brings you an eclectic mix of fresh music by emerging and breakout bands and musical icons.



2. Big Ideas- Big Ideas offers lectures on a variety of thought-provoking topics which range across politics, culture, economics, art history, science....By nature of its lecture format, pacing and inquisitive approach, it is the antithesis of the sound-bite television norm.



3. Filmspotting- A weekly film show from Chicago featuring reviews, interviews, top 5 lists, and more with Adam Kemenaar and Matty Robinson.



4. Fresh Air- This Peabody award-winning weekday magazine of contemporary arts and issues, is one of public radio's most popular programs. Hosted by Terry Gross, the show features intimate conversations with today's biggest luminaries.

5. Intelligence Squared Podcast- Brings Oxford-style debating to America- one motion, one moderator, three panelists for the motion and three against.



6. Judge John Hodgman- Famous Minor Television Personality John Hodgman (the "PC" guy in those Mac commercials) solves pressing issues emailed to him.



7. New York Times Book Review- The world's top authors and critics join Sunday Book Review Editor Sam Tanenhaus in lively conversations about books, art, and ideas.



8. Sound Opinions- Described as the world's only rock and roll talk show. Hosted by Jim DeRogatis of Vocolo.org and Greg Kot of the Chicago Tribune. Each week Jim and Greg bring you the latest music news and reviews. Plus tune in to hear exclusive interviews and performances.



9. Stuff You Should Know- How does self-experimentation work? What about the World Trade Center Memorial? Whether its a microexpression or a human cannonball, its all Stuff You Should Know. Learn more with Josh and Chuck in this podcast from HowStuffWorks.com



10. This American Life- First-person stories and short fiction pieces that are touching, funny, and surprising. Hosted by Ira Glass.
--Nate Gass, This email address is being protected from spambots. You need JavaScript enabled to view it.
Add a comment
E-Books and Your Library--Big News!!
Do you have an iPad, smart phone, nook, or Kindle? Are you interested in checking out e-books from the library? This fall, our digital collection, MyMediaMall, will be offering Cook Memorial Public Library District cardholders not only new materials but also more options for device compatibility. The MyMediaMall website will be undergoing user-focused improvements as well.
We don't have a set date yet for Kindle compatibility, but all generations of Kindle will be compatible with our MyMediaMall digital collection before the end of the year! Also, even though we share much of the material in the collection with other libraries that are part of the MyMediaMall consortium, Cook Memorial Public Library District is part of the Advantage program, which means we are now purchasing copies of in-demand material for our own patrons that are not shared with any other libraries. Our Advantage titles will shorten your wait time for popular titles.
We are working now to prepare for the huge surge of use that will be sure to occur when Kindle becomes compatible. If you haven't tried out this wonderful service that the library offers, consider trying it now. Once you develop the habit of checking out e-books from the library, you will be ready for the improved selection that is growing every day and using the coming new website.
If you haven't come into the library lately, this is a great reason to visit and make sure you have an updated library card!
Visit www.mymediamall.net today!
--Susie Pasini This email address is being protected from spambots. You need JavaScript enabled to view it.
Add a comment
A delightfully original fairytale that's not just for kids
 A 12-year-old girl named September leads an ordinary life in an ordinary house in an ordinary town in Nebraska. One evening while she is doing the dishes, something extraordinary happens. The Green Wind shows up outside her window, riding on a leopard, and invites her to travel with him to Fairyland. She immediately agrees, and takes off on an amazing adventure as "The Girl Who Circumnavigated Fairyland in a Ship of Her Own Making,'' written by Catherynne M. Valente.
September discovers that Fairyland is in turmoil, thanks to the dictatorial rulings of the Marquess. Along the way she is befriended by a dragon-like creature whose ultimate dream is to be a librarian, and a boy-like blue creature who can grant wishes if he is defeated in a wrestling match. The evil Marquess sends September on a quest, and then kidnaps her friends. While the plucky heroine's life is in grave danger, she is determined to rescue her comrades.
Valente, who has written several science fiction/fantasy novels for adults, first published "The Girl Who Circumnavigated Fairyland'' on her website, where readers could donate what they thought the book was worth. The novel eventually was picked up by publisher Feiwel & Friends, a part of Macmillan Publishers, and  complemented by amazing illustrations by Ana Juan. Valente is already working on a sequel.
Winner of the Andrew Norton Award for Young Adult Science Fiction and Fantasy, this sophisticated, humorous tale is considered Youth or Young Adult Fiction, but that shouldn't scare adults away. If you liked Lewis Carroll's "Alice in Wonderland'' and "Through the Looking Glass'', or Frank Baum's "Wonderful Wizard of Oz'', you will enjoy September and her journey through Valente's clever and original Fairyland. Check our catalog
--Jo Hansen
Add a comment
Washington, Mantle and Richards: Three Great Biographies
I've been an avid fiction reader all my life and it takes a lot for me to choose nonfiction, even the "so-called" nonfiction that reads like fiction.  It's not that I don't want to learn—I could get into a whole debate with anyone who thinks nonfiction is "truer" than fiction.  Oliver Wendell Holmes says it better than I.  "History tells lies about real people; fiction tells the truth about imaginary ones."
Of course, this debate is unwinnable.  We have our reading preferences and we don't have to defend them to anyone.   I majored in History in college so I will gravitate occasionally to a biography and this year I read (or listened to) three biographies that I enjoyed tremendously. Here are a few things I learned about each subject.
"Washington:  A Life'' by Ron Chernow
Chernow's goal is to make Washington less austere and more human.  I learned that Washington's mother was not at all supportive or proud of her son's accomplishments and their relationship was "frosty."  Washington was self-conscious about his teeth.  He never had wooden teeth but over time his fitted and stained ivory or walrus teeth resembled wood grain. By the age of 30, Washington had survived dysentery, smallpox and malaria, diseases that would have killed a less robust man.  He lived to the age of 67. Check our catalog
"The Last Boy:  Mickey Mantle and the End of America's Childhood'' by Jane Leavy
I learned that Mickey Mantle was a tortured and flawed man who was catapulted to early stardom playing a boy's game.  His dad died during his first pro years which left him without a guiding influence as he was exposed to the ultimate celebrity life. I learned that he suffered crippling injuries, that he could be crude yet sweet, unlikeable yet generous.  He's still a hero to many. Check our catalog
"Life'' by Keith Richards with James Fox
I learned that Keith Richards' life is way more complex than that of a privileged, addicted guitarist in the greatest rock band.  His stories are smart, nasty and honest.  His relationship with Mick Jagger is more like that of brothers than friends. Keith's story is a love story about music: "Music was a far bigger drug than smack. I could kick smack; I couldn't quit music. One note leads to another, and you never know what's going to come next, and you don't want to. It's like walking on a beautiful tightrope." Check our catalog
Biographies in audiobook format are entertaining and my preference when I'm commuting to and from work.  I learned, too but even better my curiosity is peaked about some of their contemporaries. What will I read next? I've already read Alexander Hamilton and John Adams.  I'm looking for a good biography of Thomas Jefferson.  A biography about Roger Maris would give another side of a baseball celebrity whose life was much less controversial. Too many music stars to choose—maybe George Harrison.
--Connie Regan
Add a comment